Thomas and Company
Thomas & Company serves as an extension of our clients' Human Resources, Payroll, and Tax departments, and we believe that our culture plays a crucial role in the client experience.
Whether you are an employer looking for the right partner or an individual searching for an amazing team to join, our focus on culture benefits our people, therefore our clients. Better people means better service.
We believe our company culture is a critical piece of our collective success.
TO ENABLE SUCCESS
What It Means to Our Clients
Save time, save money, and mitigate risk through lasting relationships.
What It Means to Us
Personal and professional growth with an entrepreneurial spirit.
Remember Who We Are
What It Means – We are a team of subject matter experts with a proud service history who pride ourselves on doing it right and building trusted relationships.
How We Express It – We value the relationships we've built, and the experience gained over the years.
Result – We do what is right because we've always done it that way.
Always Improving
What It Means – Our knowledge and ability to execute on behalf of our clients is paramount. We are always pushing to be smarter, more efficient, and deliver more value to our clients and each other.
How We Express It – In our office, our community, and our personal lives we support and encourage each other to push past what we thought was possible and actualize our potential.
Result – Being better today than we were yesterday, both personally and professionally.
Own It
What It Means – Own your performance, your team's performance, the company's performance, and the clients' experience. Accountability starts with the individual. 
How We Express It – Open communication and transparency about our performance. 
Result – Never sacrifice long-term value for short-term results.  We never say, "that's not my job."
Solidarity
What It Means – Our team, our clients, the communities we impact.  We are capable of more when unified as one.
How We Express It – We build relationships through transparent communication and appreciation.
Result – I've got your back, no matter what.
We are proud of the culture we have created here at Thomas & Company, so proud we want to share it with you.
Check back regularly for stories, photos and videos of our team.
Wholeheartedly embracing our core purpose of enabling success, we have taken proactive steps to equip…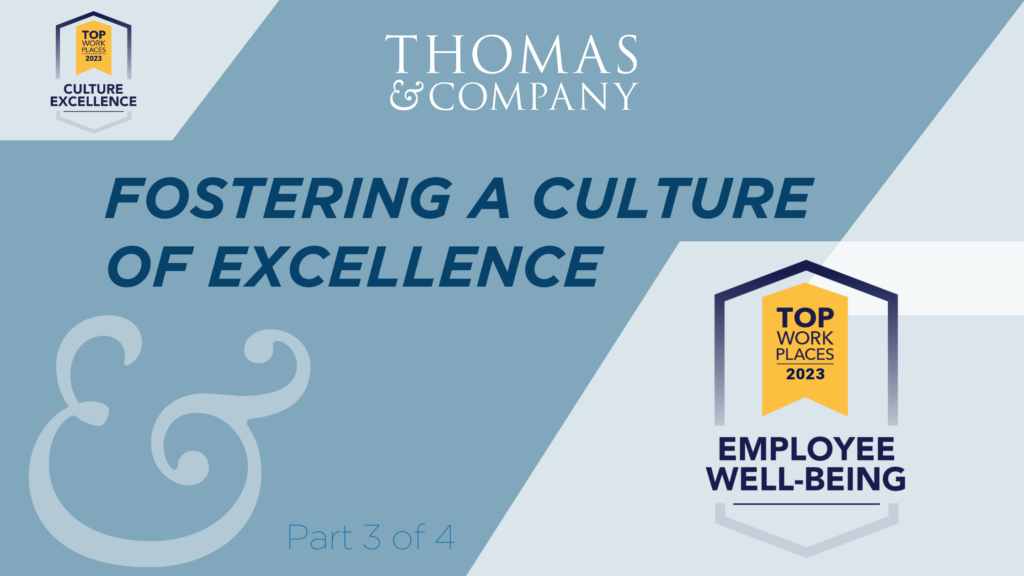 At Thomas & Company, we believe that our employees are our most valuable asset. Their…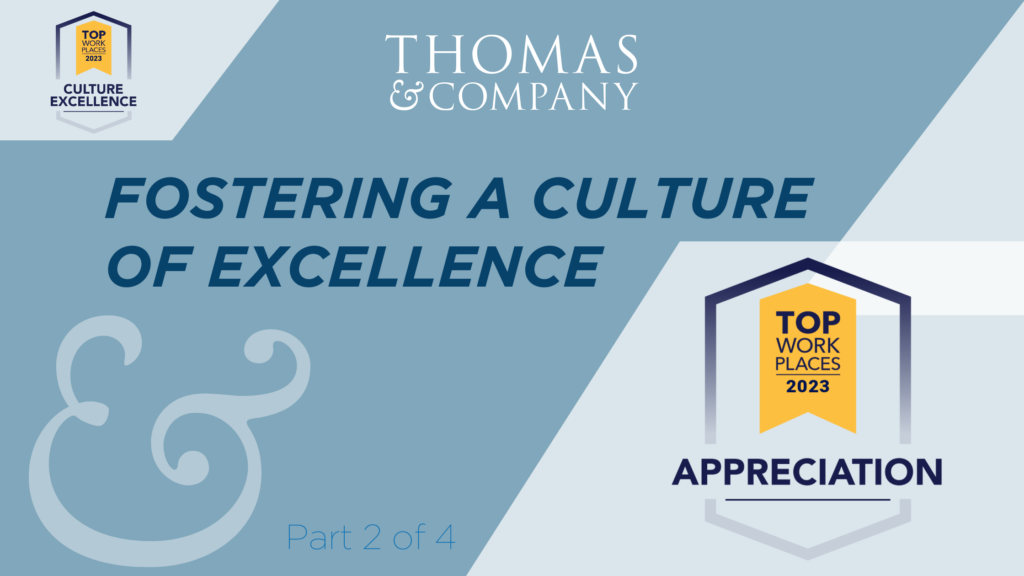 Fostering a culture of appreciation is no small feat. It's a journey that involves transparency,…

The Thomas & Company Hall of Fame